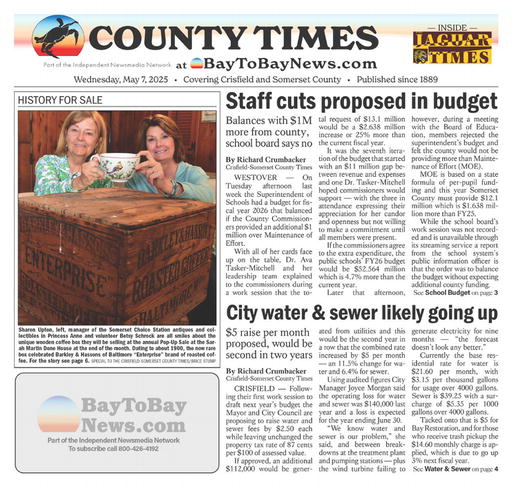 The Crisfield-Somerset County Times covers Somerset County, MD, and Tangier Island, VA, which are the heart of Delmarva's fishing and seafood industry.
Crisfield is a community steeped in the watermen's culture, while the county seat of Princess Anne is a destination for those who enjoy history. It is also home to the fast-growing University of Maryland Eastern Shore. The entire county offers attractions for heritage and environmental tourists, boaters, sportsmen and is becoming a favored location for retirees.
Residents can also travel less than 50 miles to the larger towns of Salisbury and Pocomoke City for additional shopping and entertainment, or travel another couple of hours to Annapolis, Baltimore, Washington, DC, or Norfolk, VA.
Contact
Address: 914 W. Main St., Crisfield, MD 21817
Phone: 410-968-1188
Email: Visit our contact page for a complete list of email contacts.
Social Media: Follow us on Facebook and Twitter.
Marketplace: Shop ads from our print edition.
Print edition
Mail-delivery Subscriptions are $39 annually plus tax. Visit our online subscription center for more information. The paper is for sale at select locations for 50 cents a copy. Delivery questions or problems? Send email to our customer service team.
Electronic edition
Our e-newspaper is a digital replica of the print edition. Subscriptions are $26 a year. Try a free demo.
Advertising
Classified Advertising: FREE online classifieds. No limit on the number of ads. Up to 400 words and four photos free. Many options to upgrade your ad or publish in print. You can submit your ad online or send email to our classified team for more information.
Display advertising: Send email to our sales team or our billing team, or view our online media kit for information about the County Times and other Independent Newsmedia Inc. publications in the Delmarva area
Archives
The Crisfield-Somerset County Times's online archive contains staff-written and other selected articles from 1991 to the present. Searches are free. You may purchase individual articles for $2.95 or select a package for multiple articles.