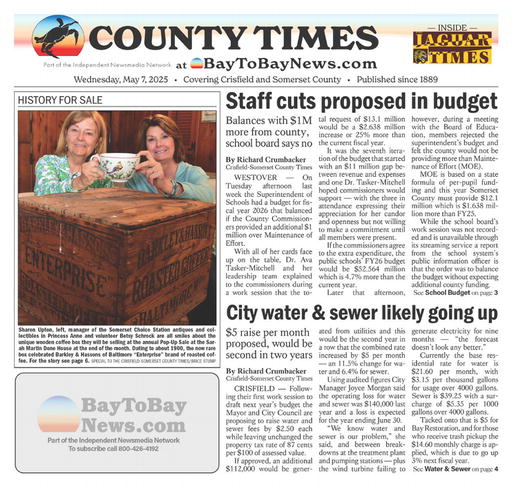 The Crisfield-Somerset County Times covers Somerset County, MD, and Tangier Island, VA, which are the heart of Delmarva's fishing and seafood industry.
Print Edition
Mail-delivery Subscriptions are $39 annually plus tax. Visit our online subscription center for more information. The paper is for sale at select locations for 50 cents a copy. Delivery questions or problems? Send email to our customer service team.
Electronic Edition
Our e-newspaper is a digital replica of the print edition. Subscriptions are $26 a year. Try a free demo.
Classified Advertising
FREE online classifieds. No limit on the number of ads. Up to 400 words and four photos free. Many options to upgrade your ad or publish in print. You can submit your ad online or send email to our classified team for more information.
Display Advertising
Send email to our sales team or our billing team, or view our online media kit for information about the County Times and other Independent Newsmedia Inc. publications in the Delmarva area.
Archives
The Crisfield-Somerset County Times's online archive contains staff-written and other selected articles from 1991 to the present. Searches are free. You may purchase individual articles for $2.95 or select a package for multiple articles.
---
About Independent Newsmedia Inc. USA
The County Times is a proud member of Independent Newsmedia Inc. USA and part of a non-profit journalistic trust.
Independent Newsmedia Inc. USA is a unique publishing and printing company that supports every American's First Amendment rights and encourages and assists citizens in exercising those rights responsibly.
We pursue this mission by publishing community newspapers, by providing printing services to other publishers, and by creating citizen-driven community websites for the 21st Century and beyond. Our unique structure is designed to maintain our independence.
We pay taxes like any other company, but there are no shareholders, no dividends are paid, and all after-tax profits are reinvested in serving our mission. We are held in sacred trust by a rotating group of five trustees who believe in our mission and are pledged not to benefit personally from their involvement.
Visit newszap.com to learn more about our company.
---
Our pledge to our readers makes us different
We pledge:
To operate our newspapers and websites as members of a sacred public trust.
To report the news with honesty, accuracy, purposeful neutrality, fairness, objectivity, fearlessness and compassion.
To use our opinion pages to facilitate community debate, not to push our own opinions.
To provide the information citizens need to make their own intelligent decisions about public issues.
To help our communities become better places to live and work, through our dedication to conscientious journalism.
To treat people with courtesy, respect and compassion.
To provide a right to reply to those we write about.
To disclose our own conflicts of interest or potential conflicts to our readers.
To correct our errors and to give each correction the prominence it deserves (on pg. 1 if that's where the error was).